MNAP Update
20 August 2020
Martin Brampton
This is an update on a variety of matters, in no particular order.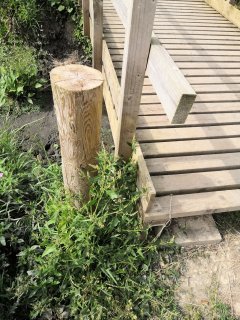 Not long after putting the bridge over the Cut back in place, the Internal Drainage Board people kindly installed some stout wooden posts close to the four corners of the bridge (see photo attached). It is intended that they should be linked to the bridge to resist movement.

A group from the local Green Party did a litter pick in Lady Spring Wood on 8 August, including removing a lot of litter that had been thrown into the Cut. Although a great deal was removed, there is still some left, in case anyone is inclined to organise another session. It's best done as a group; Ryedale DC can assist (although not with manpower) and will deal with the waste.

I have made a start with an attempt to create a support group - Friends of Lady Spring Wood. It would be very helpful if we can create a group of interested people who can put forward ideas for developments, report problems and hopefully help with looking after the area. Your assistance with recruitment will be needed! More details of mechanics to underpin the scheme to follow. (Since this update was written, a page has been added here at Join Our Communities).

I am very pleased to say that John Howard (some of you will know him as a Norton Town Councillor) has kindly said he is willing to be MNAP Secretary. I am therefore suggesting that we co-opt him to the committee and take up his offer by appointing him Secretary.

The transfer of records from Sarah Oswald remains outstanding. Sarah has talked about it happening this month, but has not made any commitment. We are somewhat handicapped without the records, as we cannot answer queries about the history of the Lady Spring Wood project or make plans to develop matters that have been started in the past.

I am recommending that we support a new project. A number of people have been working on a scheme to work towards a continuous path from Hovingham into Malton, mostly along the B1257 and passing through the string of villages between Hovingham and Malton. Although this may be used recreationally, it is also important to help people travel without motor vehicles for practical purposes such as work and shopping. Although some of the villages are outside the MNAP area, a sizeable part of the route is within, and it is a significant matter for the Malton-Norton area. It has already been endorsed in principle by Malton Town Council. Cycles are a particular target, but it is hoped that the path will accommodate pedestrians, wheelchairs, etc. The project needs a non-governmental organisation that can hold money and be the vehicle for seeking grants. MNAP seems ideally placed for this purpose. Volunteers are available to carry the project forward.

I am very grateful to Alan Mitchell of Maltech, who has produced sketch plans for work to fully restore the bridge over the Cut. Alan suggests using local contractor, Brian Swales. So far as he knows there is no other contractor who is local, has the capabilities, and would provide good value for a relatively small job. Although in an ideal world we would have competitive quotes, I suggest that we seek a quote from Brian Swales, and if acceptable proceed. But alternative comments are welcome. Alan supports his sketches with remarks:
a. The pre-cast concrete bearers will lift the bridge a bit above pushing flood water as experienced in the recent winter. It should be possible to install these one at a time by just lifting each end of the bridge with a fork-lift/hi-loader.

b. I've shown the deck bolted back to the stakes just to hold it a bit onto the gabions during times of flooding

c. I've also shown some crimping to the tops of the gabions and suggested putting a bit more limestone in them (The Cemex quarry near Pickering has some good, hard/frost resistant limestone.)

d. I've also added a sketch of some ramping details independent of the bridge (I think the previous installers fastened extra sloping decking to the bridge which increased its profile to flood water). This is not intended as DDA compliant just to improve access for the general public
There are signs that vandalism is an ongoing problem in Lady Spring Wood. A tree branch was damaged and left obstructing the board walk. It has been cut back, but the branch was then further damaged to the detriment of the tree. There are detached tree branches in the Cut that look to be the result of vandalism. The police are informed of incidents, but obviously have difficulty taking any practical steps. All the same, please report any evidence you see of vandalism, the police would like to be kept updated.

In principle, we should be holding a public AGM around now. Obviously this is not going to be easily achieved with current restrictions. Although it is highly desirable to engage the public, we cannot hold an actual meeting at present. Government has issued regulations that allowed local councils to put off annual meetings for the time being. Although they do not apply to us, I propose that we regard Covid-19 as force majeure, and leave everything in place for the time being, with the intention of holding an AGM when a public meeting becomes a possibility.